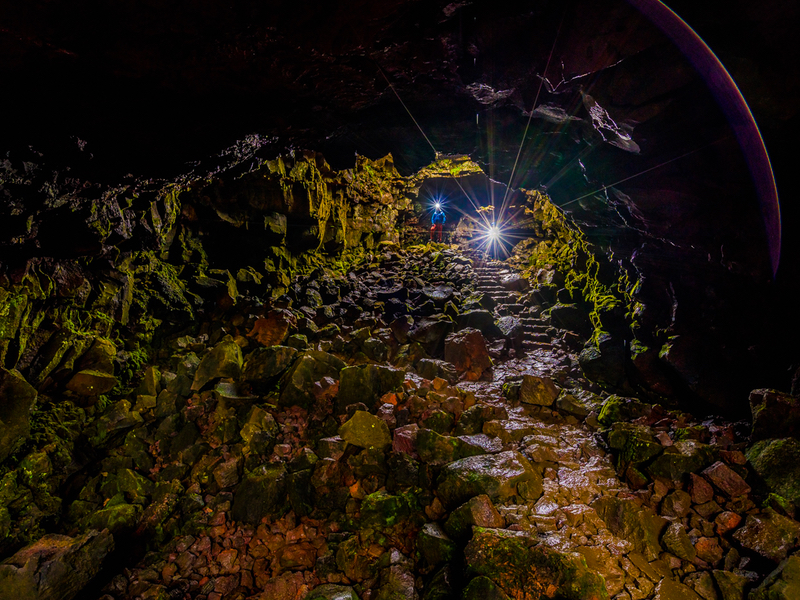 Announcing an all-new side event for Secret Solstice 2017, in one of the world's most unique places – 66°North presents The Lava Tunnel is happening for the first time this year.
Located in the Raufarholshellir lava tunnel system outside Reykjavík, 66°North  presents The Lava Tunnel will be held for the first time ever on the 17th of June. We're proud to announce that our the show will be presented by our partner 66ºNorth.
Performing at the show:
Helgi Björnsson [IS]
Ása [IS]
Högni [IS]
Snorri Helga [IS]
Formed over 5,000 years ago during a volcanic eruption, the Raufarhollshellir cave system is a magnificent phenomenon of nature, which instills a sense of wonder in all who journey within it. And for the first time ever, you can be part of this ultra-special concert, in this unique natural space.
The multi-talented musician Högni has vast experience when it comes to Icelandic music having performed with GusGus and Hjaltalín. Snorri Helgason's music is heartfelt and introspective, yet universal, a highly relatable exploration of his personal struggles and emotions. His latest and fourth solo album, Vittu til, has received very good reviews and he'll most definitely give festival-goers a sneak peak.
Helgi Björnsson is a famous Icelandic singer with more than 30 years experience performing with his band, SSSól. Dividing his work between film, stage and music for the past years he always manages to put on a great show!
Ása has been singing and recording since her early teenage years, and has now embarked on her solo career. Inspired by the likes of Norah Jones and Johnny Cash, Ása's music will create an uplifting feeling within you and a immediate desire to lose yourself in the rhythm and the lyrics.
At only 39,900kr per ticket, and with only 50 tickets available a small handful of guests will be transported from Reykjavík to the location, provided two alcoholic drinks on site included in the price, given a tour of the cave system by The Lava Tunnel's incredible guides, and then wowed by one of the most unique concerts on the planet.
Please note, purchasing a ticket to Secret Solstice presents The Lava Tunnel does not provide entry to the main Secret Solstice 2017 event, and is considered a separate ticket. Please click here to purchase tickets to the main event.
TIMING/TRANSPORT NOTICE: All transport is included in the ticket price. Buses will leave from a location next to the festival site at 2PM (14:00) sharp on the date of each event, and we recommend you arriving at least 30 mins prior to departure. Missing the bus will result in forfeiture of your ticket, with no refund. The entire tour will take approximately five hours, with an estimated return back to Reykjavík of 7PM (19:00) to catch the rest of the action at the event.
SAFETY NOTICE: Secret Solstice Festival and The Lava Tunnel are dedicated to the safety of all guests attending this event. Due to this, no intoxicated people will be allowed onto buses departing Reykjavík for this event, and you will forfeit your ticket with no refund provided. Drinks will be provided within the lava tunnel system, however a two-drink maximum is in place to ensure no guests will compromise their own safety, or that of other attendees. Lastly, dress warm – we recommend heavy boots and a jacket rated to at least 0ºC temperatures!
Comments
comments